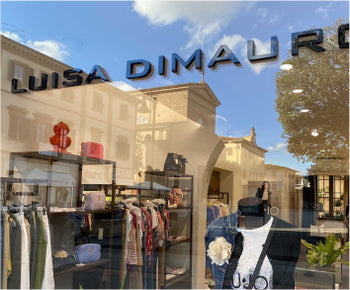 The Luisa Dimauro world was born from a woman's shoe
Luisadimauro.com is the natural online evolution of the Luisa Dimauro group, a company with 45 years of experience born from a small women's shoe shop in the province of Florence.

Today it is a consolidated reality in central Italy with numerous shops in the main towns, distributed between historic centers and shopping centres, which boasts various lines of women's and men's footwear made directly and distributed through registered trademarks as well as an online sales channel and trade with the main national and international players in the world of footwear and accessories.

Luisadimauro.com combines different styles always in line with the latest trends by reflecting online the experience gained in the stores regarding women's shoes, men's shoes and accessories. By getting in touch with us you will be able to discover the latest news as well as the various promotions, sales, outlet offers; we also invite you to visit us by consulting the map of our stores.
A complete shopping map dedicated to women's and men's shoes and accessories is at your disposal in line with the main social channels coordinated with the points of sale. Search our official IG and FB pages and get instant feedback on the latest arrivals and flash promos.

The online shopping experience on Luisadimauro.com is simple and immediate as well as being accompanied by a real and consolidated experience in the sector. Secure payments and traceability of your purchases, combined with a dedicated assistance service, offer the best online experience also involving points of sale; always available for the direct collection of your purchase and any return. Without forgetting the always free shipping in Italy.